For the technology, see Gen:LOCK (technology).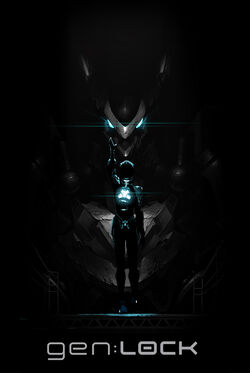 gen:LOCK is a 3D animated mecha sci-fi series[1] produced by Rooster Teeth. The release date is set at January 2019[2] with an anticipated 8-episode first season.[3] It was announced at RTX Austin on July 7th, 2017.[4]
| | | |
| --- | --- | --- |
| " | On the losing side of a global culture war, an Experimental Science Unit is pushed to identify a team of young pilots who can control a variety of prototype, next-generation mecha—giant, robotic, weaponized bodies. The recruits will find, however, that their newfound abilities come at no small cost.[5] | " |
Global Culture War
Edit
In gen:LOCK a war of beliefs is being fought within populations around the world. There are no direct land borders, but clashes instead occur between those of alternate perspectives within the same location. One side has begun to organize in order to do a territory grab and form mono-culture areas, and the opposing side is resisting.
The cultural nature of the war is based on identity and the ability to fight while still preserving your own. This is tied into the pairing of people and the world's gen:LOCK technology, which is a technological breakthrough on the protagonists' side of the war. [6]
Characters
Edit
Production
Edit
Conception and influences
Edit
The original concept for gen:LOCK was pitched in the summer of 2016, with pre-production beginning in late 2016.[7] The series will explore high-concept science fiction and feature more mature themes compared to the concurrently running Rooster Teeth show RWBY.
An emphasis was placed on the self-consistency and logic of the rules and technology of the world.[5] To this end, a detailed series bible containing concept art and backstory was created for the show.[1] The show bears more similarity with "realistic" mech, drawing closer comparisons to Gundam and Aldnoah.Zero than "super" mech shows like Gurren Lagann.[7]
Other anime cited as influences include the cyberpunk series Ghost in the Shell and Psycho Pass, the strongly character-oriented storytelling of Kiznaiver, as well as the science fiction anime work of Gen Urobuchi. However, writer/director Gray G. Haddock emphasized that it will not adhere strictly to any genre conventions and will draw from a diverse range of inspirations and ideas.[5]
While both are 3D animated shows, the art style of gen:LOCK is intended to be more realistic and detailed than RWBY.[5] In addition to concept art created internally by Rooster Teeth artists, the team sought out collaborations with other artists such as Bach "Dishwasher1910" Do[8]—whose fan art gained the attention of the company—and concept artist Gavin Manners.[9]
Music by the electronic rock band Battle Tapes has been used in promotional material for the show.[10]
Publicity
Edit
gen:LOCK was publicly announced at RTX Austin on July 7th, 2017.[4] A teaser was shown at Rooster Teeth's RWBY panel at New York Comic Con on October 6th, 2017.[11] gen:LOCK was also included in the list of new shows in Rooster Teeth's 2018 lineup, though still no release date was given.[12] On June 20th, 2018, Rooster Teeth announced a window of January 2019 for gen:LOCK's release.
Promotional material
Edit
Concept art
Edit
Social media
Edit
References
Edit